Aberdeenshire Council have advised that becasue water is not draining away as fast as expected from localised flooding, the B999 btween Tarves and Pitmedden at Dinneswood is CLOSED. 
The water depth is high and marginal for many cars to have problems, although it is possible to get through.  However, the risk remains for some vehicles and because of that, signs have been put up by Police Scotland to say the road is closed.
Police Scotland have said it is an offence to go through a road closed sign like this and you may void your insurance if you did and had a subsequent problem.
Buses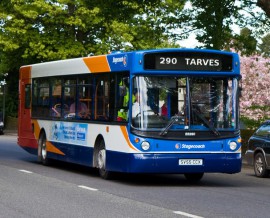 This is why the buses, despite running during the day yesterday ceased after dark. Stagecoach bluebird had previously gone through, but new rain last night and today means they will not ignore a closed sign.
Buses are running from Pitmedden to Aberdeen. 
Travel by Car
Access to Ellon is via Raxton crossroads to Auchterellon.
Access to Aberdeen is via Bool Road and Cairnbrogie Crossroads and back to the B999 at Pitmedden.