Scottish Country Dance Class, Oldmeldrum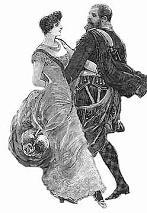 Our class resumes on Tuesday 5 September 2017 in the British Legion hall Oldmeldrum.
New members welcome. A very friendly class. If you wish to dance reels, jigs and strathspeys which are always walked through a few times this is the class for you. The class is ideal for all levels of ability including beginners.
The emphasis is on fun and enjoyment!

Tuesday 5 September 2017 7.30 pm to 9.30 pm
Come along and join in the FUN at the SCOTTISH COUNTRY DANCE CLASS:
Come on your own or with a partner – All Welcome to join and its great exercise All dances are walked through every week, join in and learn how to dance the Duke of Perth, Hamilton House, Reel of the 51st, Posties Jig etc!
Very friendly class Cost £ 4.00 per night including soft drink at interval If you require further information please contact Liz & Gordon Bulloch on 01651 806120 or Paul McKnight, Teacher on 07841487773.