Following the closure of the Tarves doctors surgery, the building in Tarves Square, was put up for sale, and then sold by Haddo Medical Group.
In a surprise move, encouraged by Tarves Community Council, it was bought by a local resident dubbed 'a community business angel' who was supporting and enabling the community to acquire the property and keep an important building economically and socially active within the centre of the village.
The Community Council had agreed to set up a 'Community Development Trust' to take forward the possible project, following a meeting set up by local Aberdeenshire Councillor and resident Paul Johnston with the Development Trust Association Scotland.
"Many people had been talking for a while about what the building could be used for.  Some informal talking had taken place but initially there were no community groups in a position to take on the building and raise all the necessary money." said Bob Davidson, Chair of the Community Council.
Now, that has substantially changed and a 'community business angel' has purchased the building. This is with the plan that the community are acquiring it once the TDT (Tarves Development Trust) have been put in place the process to organise to raise the funds and invest in the building.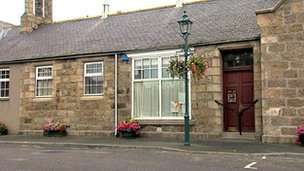 ---
This what we published at the time:
The community council had then agreed that they would seek expressions of interest for running commercial activities that would benefit the community,  from the building.
"This could be for a cafe, workspace, gallery or craft shop as some people have talked about.  However, we were open to any ideas and inspiration.  What matters is that the building is opened and busy to support a vibrant center for the village of Tarves" said Paul Johnston.
"This is an opportunity for people to propose a business idea that they could do which would support our community." Said David Hekelaar, Secretary of Tarves Community Council.  " We will consider anything from a community project to a lease for using the building.  The one that best fits the aspirations of people in Tarves expressed to  Tarves Development Trust via the Community Council"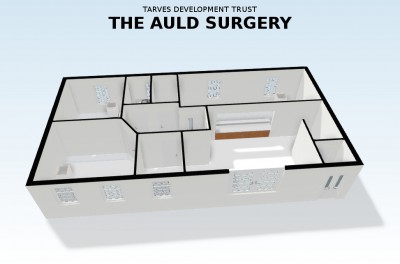 Expressions of interest are being sought.  Click here to download and view the Expression of Interest form.
The building that makes up the former doctor's surgery started life as the village school. It dates back to 1837 and was in use until the children formed an orderly line and walked to the new school on the south side of Duthie Road in 1911.
The doctor's surgery is the central section of the old school buildings.  To the west is the school house, now a private dwelling.  Immediately to the east is the Tarves Heritage Centre.