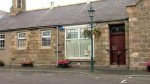 Following the closure of the Tarves doctor's surgery, the building in Tarves Square, has now been sold by Haddo Medical Group.
In a surprise move, encouraged by Tarves Community Council, it has been bought by a local resident dubbed 'a community business angel' who is supporting and enabling the community to acquire the property and keep an important building economically and socially active within the centre of the village.
The Community Council have agreed to set up a 'Community Development Trust' to take forward the possible project, following a meeting set up by local Aberdeenshire Councillor and resident Paul Johnston with the Development Trust Association Scotland.
There is a page here about what is a Development Trust
The full story about Development Trusts is available here: http://www.dtascot.org.uk/
A group from the community Council is preparing a community Consultation for Tarves residents on the Trust and another group is preparing a document to ask people for expressions of interest on what business opportunity and activity can be the building be used for.
"Many people had been talking for a while about what the building could be used for.  Some informal talking had taken place but initially there were no community groups in a position to take on the building and raise all the necessary money." said Bob Davidson, Chair of the Community Council.
Now, that has substantially changed and a 'community business angel' has purchased the building. This is with a view to the community acquiring it once a development trust has been put in place and can organise to raise the funds and invest in the building.
The community council have agreed that they would seek expressions of interest for running commercial activities that would benefit the community,  from the building.
"This could be for a cafe, workspace, gallery or craft shop as some people have talked about.  However, we are open to any ideas and inspiration.  What matters is that the building is opened and busy to support a vibrant centre for the village of Tarves" said Paul Johnston.
"This is an opportunity for people to propose a business idea that they could do which would support our community." Said David Hekelaar, Secretary of Tarves Community Council.  " We will consider anything from a community project to a lease for using the building.  The one that best fits the aspirations of people in Tarves expressed to  Tarves Development Trust via the Community Council"
Expressions of interest are being sought.  Contact Tarves Development Trust by emailing tdt@tarves.org.uk or by dropping something off in writing to TDT c/o Tarves Community Council via  the post office in Duthie's shop in the Square.