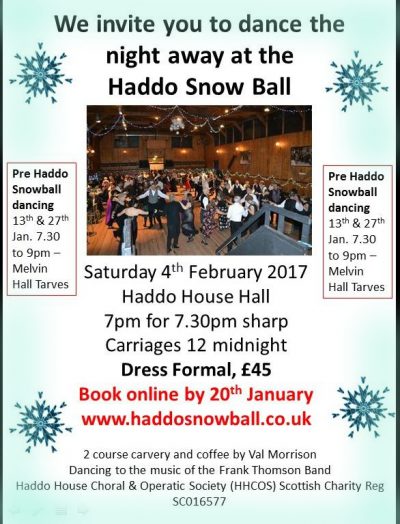 The Ball will be held on the 4th of February 2017, from seven until midnight, in the Canadian Hall at Haddo House.  Dress formal.  Dancing will be to the music of Frank Thomson and his Band. There will be the usual high quality buffet, served at 7.30 prompt. 
We are trialling online booking for the first time.  The details of how to book are below, the preferred payment method is PayPal.  You do not need a PayPal account to use the service, any Visa or Mastercard will do. There will be the option for a BACS transfer if required, cheques are also acceptable.
If you have any questions whatsoever, or want to pay by BACS or cheque, please use the email link below. Ticket sales will close on the 20th of January.
The main beneficiary of any profits will be the Haddo House Choral and Operatic Society (HHCOS).
To buy tickets online please follow this link: https://form.jotformeu.com/62903970050351
To get more information, find out how to pay by BACS or cheque please email: info@haddosnowball.co.uk
We will be holding two practice evenings in the Melvin Hall in Tarves if you wish to brush up on the set dances. There will also be a caller at the Ball.  The practice evenings will be on the 13th and 27th of January at 7.30 for 7.45. The cost will be £5.00 per person and all are welcome. To confirm your place(s) please email: info@haddosnowball.co.uk