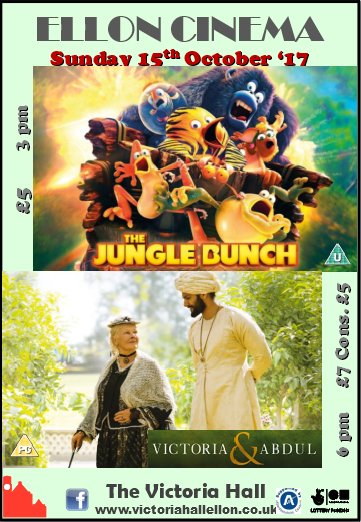 Ellon Cinema
Sunday, 15th October '17
The Jungle Bunch (U) – 3 pm – Maurice may look like a penguin – but he's a real tiger inside! Raised by a tigress, he's the clumsiest Kung-Fu master ever. Along with his friends, The Jungle Bunch, he intends to maintain order and justice in the jungle, as his mother did before him. But Igor, an evil koala, wants to destroy the jungle once and for all, helped by his army of silly baboons… The Jungle Bunch – to the rescue.
Victoria and Abdul (PG) – 6 pm – The extraordinary true story of an unexpected friendship in the later years of Queen Victoria's (Academy Award winner Judi Dench) remarkable rule. When Abdul Karim (Ali Fazal), a young clerk, travels from India to participate in the Queen's Golden Jubilee, he is surprised to find favour with the Queen herself. As the Queen questions the constrictions of her long-held position, the two forge an unlikely and devoted alliance with a loyalty to one another that her household and inner circle all attempt to destroy. As the friendship deepens, the Queen begins to see a changing world through new eyes and joyfully reclaims her humanity.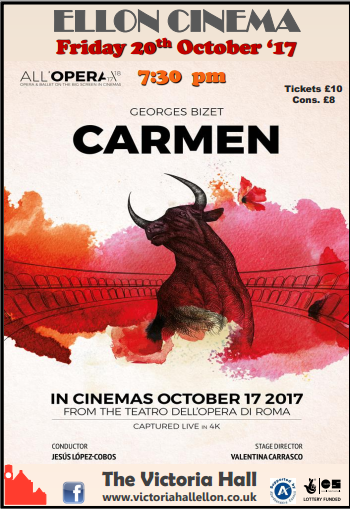 Friday, 20th October
Opera CARMEN – Staged by Argentine director Valentina Carrasco, this is a modern interpretation performed in the enchanting setting of the Terme di Caracalla in Rome, the archaeological site of the Roman Baths where a unique theatrical stage comes to life. Captured live in HD from their summer programme this is an encore version intended especially for showing in theatres and cinemas world wide.
Sunday, 29th October
Captain Underpants (U) – 3 pm Based on the worldwide sensation and bestselling book series, and boasting an A-list cast of comedy superstars headed by Kevin Hart and Ed Helms, DreamWorks Animation brings audiences the long-awaited global movie event, CAPTAIN UNDERPANTS: THE FIRST EPIC MOVIE. This raucously subversive comedy for the entire family tells the story of two overly imaginative pranksters named George and Harold, who hypnotize their principal into thinking he's a ridiculously enthusiastic, incredibly dim-witted superhero named Captain Underpants
Goodbye Christopher Robin (12A) – Provides a rare glimpse into the relationship between beloved children's author A. A. Milne (Domhnall Gleeson) and his son Christopher Robin, whose toys inspired the magical world of Winnie the Pooh. Along with his mother Daphne (Margot Robbie), and his nanny Olive (Kelly Macdonald), Christopher Robin and his family are swept up in the international success of the books; the enchanting tales bringing hope and comfort to England after the First World War. But with the eyes of the world on Christopher Robin, what will the cost be to the family?.
We hope to see you at our cinema again soon
Ellon Cinema,
Run by volunteers for,
The Victoria Hall Trust Management Committee
Registered Charity No SC 023733
See our web site: victoriahallellon.co.uk/cinema for films planned for the months ahead