The community orchard in Bede Way, Tarves was the scene for a ceremony, blessing the orchard for the coming year by Susanna Bichard, the local lay preacher for the Kirk and especially to mark the naming of the Orchard Way on Monday 28th December.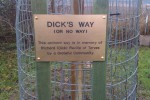 A plaque, naming the orchard avenue, Dick's Way in memory of Richard (Dick) Reville was unveiled at the ceremony by Anne Reville his wife and son John.
The first phase of the community orchard was planted at the beginning of 2015 by PUT community Co-op (Pitmedden Udny Tarves) along with the Tarves amenities group and Community Council.
Orchard Project organiser Paul Johnston said:
"The idea to name the orchard was discussed by all three groups and the idea to name it after Dick was unanimously suggested to Anne to honour the work that Dick had done for all of the village amenities.  Flower beds, tubs, Christmas lights, and the hall, all had his helping hands."
Anne Reville, unveiled the plaque and planted a commemorative plum tree.  Mrs. Reville thank all those that get involved locally in helping the community and those that supported Dick.  there were many over the years and especially more recently, Gordon Brown and Ian Massie.
Paul Johnston explained "People believed that naming the Orchard Way after Dick was a celebration of his achievements.  Orchards and gardens are part of the circle of life and as the orchard grows and future generations enjoy its blossom and see its fruits, we can remember those two made our community what it is"
The event was supported by the Community Council represented by its chairman Bob Davidson and David Hekelaar, secretary and others including David Presly from the Melvin Hall Committee.
Mulled cider and fruit drink, with warm mince or apple pies were there for local family and friends who turned out to mark the occasion.
Paul Johnston, thanked Bob Bamlett Chairperson of PUT community cooperative for the assistance with orchard works and asked any local people willing to help in expanding and developing that local orchard and amenities to contact:
tarves-amenity-group@tarves.org.uk or putcommunityorchard@gmail.com
or calling Paul Johnston on Tarves 851690