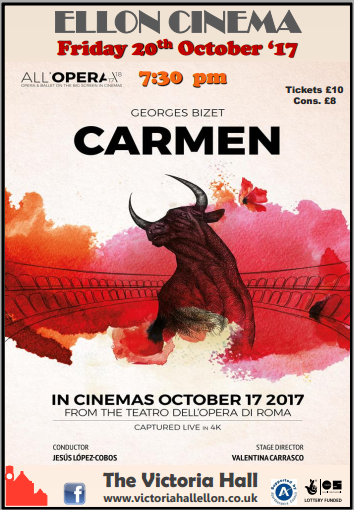 A special note from the Ellon Cinema team.
Opera CARMEN
Friday, 20th October 2017 at 7:30 pm
The Ellon Cinema team will be reaching out to all fans of classical opera in the area on Friday, the 20th October when they will be hosting a special screening of Carmen captured live at the Teatro Dell'opera Di Roma during their summer season this year.
CARMEN deals with the love and jealousy of naïve soldier Don José who's lured away from his beloved by the gypsy factory-girl Carmen, whom he allows to escape from custody. Staged by Argentine director Valentina Carrasco, this is a modern interpretation performed in the enchanting setting of the Terme di Caracalla in Rome, the archaeological site of the Roman Baths where a unique theatrical stage comes to life.
Conductor Jesùs López-Cobos
Stage Director Valentina Carrasco
Starring Veronica Simeoni and Roberto Aronica
The arrangements for the night will feature cabaret style layout of tables and seating and the normal refreshment service for the evening will be supplemented by a full bar service provided by local Ellon team 'Bar Stars' to allow opera goers on the night to enjoy a favourite drink both before acts 1 & 2 and during the 30 minute break.
See our web site: victoriahallellon.co.uk/cinema for films planned for the months ahead