Ellon Cinema – Saturday 14th and Sunday 15th April
The Ellon Cinema volunteers return from the easter break with three films for the weekend for the community to enjoy: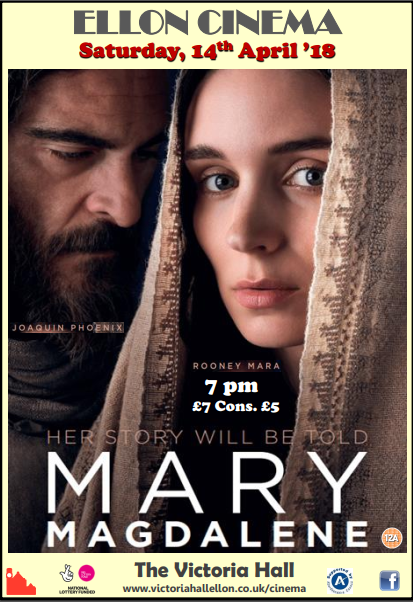 Saturday, 14th April – 7 pm – Mary Magdalene (12A)
An interpretation of the story of Mary Magdalene by Helen edmunson and Phillipa Goslet. Set in the Holy Land in the first century, a young woman leaves her small fishing village and traditional family behind to join a radical new social movement. At its head is a charismatic leader, Jesus of Nazareth (Joaquin Phoenix) who promises that the world is changing. Mary (Rooney Mara) is searching for a new way of living, and an authenticity that is denied her by the rigid hierarchies of the time. As the notoriety of the group spread and more are drawn to follow Jesus' inspirational message, Mary's spiritual journey places her at the heart of a story that will lead to the capital city of Jerusalem, where she must confront the reality of Jesus' destiny and her own place within it.
Genre:   Drama

Sunday, 15th April
Peter Rabbit (PG) – 3 pm

Based on the books by Beatrix Potter: Peter Rabbit  his threes sisters: Flopsy, Mopsy, and Cotton Tail and their cousin Benjamin enjoy their days harassing Mr McGregor in his vegetable garden. Until one day he dies and no one can stop them roaming across his house and lands for a full day or so. However, when one of Mr McGregor's relatives inherits the house and goes to check it out, he finds much more than he bargained for. What ensues, is a battle of wills between the new Mr McGregor and the rabbits. But when he starts to fall in love with Bea a real lover of all nature, his feelings towards them begin to change. But is it too late?
Genres:   Animation, adventure, comedy
Walk Like a Panther (12A) – 6 pm
A 'community spirited' film where a group of 1980s wrestlers are forced to don the lycra once last time when their beloved local pub is threatened with closure. A heart warming story providing plenty of laughs, featuring that money grabbing villain again, who you can't wait to see get his just deserts.
Genre:    Comedy
Coming up soon:
Sunday, 29th April: – Duck Duck Goose at 3pm and The Shape of Water at 6 pm
Friday, 11th May – 7 pm Opera: Don Pasquale recorded live from the Teatro Alla Scala in Milan
Sunday, 20th May – A Wrinkle in Time at 3 pm and The Guernsey Literary and Potato Peel Pie Society at 6 pm
Ellon Cinema,
Run by volunteers for,
The Victoria Hall Trust Management Committee
Registered Charity No SC 023733
See our web site: victoriahallellon.co.uk/cinema for films planned for the months ahead